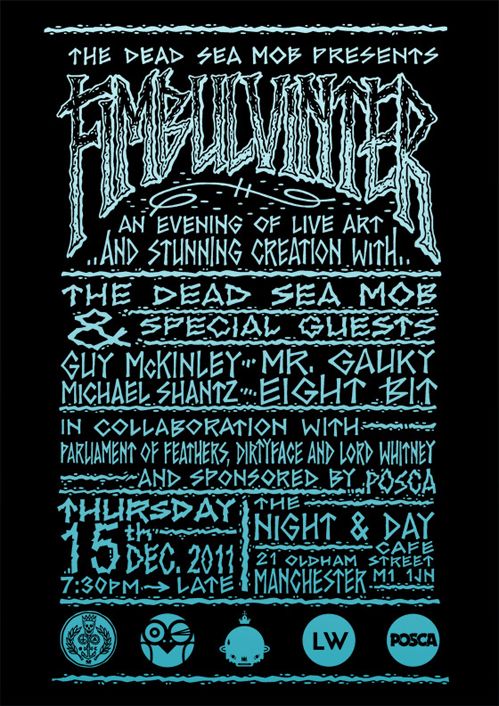 The Dead Sea Mob are soon to set sail for Manchester's
Night & Day Cafe
for our final event of the year. Our Fimbulvinter show takes its name from the Norse legend of "The Winter To End All Winters", and with the guest artists and collaborators we've roped in for the evening's entertainment, things are sure to go down like an apocalyptic storm.
On Thursday the 15th of December 2011,
The usual Dead Sea Mobsters
will be joined by fellow practitioners of the dark arts,
Guy McKinley
,
Mr. Gauky
,
Michael Shantz
, and
Eight Bit
.. The live drawing will be interlaced with live screenprinting from
Parliament of Feathers
, Vinter-Vibes from the good folks at
Dirtyface
, and astonishing visual-terror from
Lord Whitney
..
Posca
will kindly support the festivities by providing paint pens of varying cataclysmic colours, and there'll be super limited edition, one-colour prints available from each of the participating artists involved for staggeringly affordable prices.
..It's a Fimbulvinter follow-up Flash sheet to the last print I produced for The Mob's event in Brighton a few months ago. There are a few left of that
original Flash sheet print
(pictured below) in
The Dead Sea Mob Shop
and, as we're offering a 25% discount on EVERYTHING in the online store in the build-up to Fimbulvinter when you mention the discount password 'FIMBULVINTER' as you order, you can snap up one of the remaining A3 prints for the ridiculously low price of £7.50..
..Big thanks to Alan at Dirtyface for piecing together this animated Fimbulvinter trailer.. Yeah!
..And an extra special shout-out to Ice Cube Circa '88 for really puttin' his back into reppin' The Mob with his freshly Photoshopped Fimbulvinter shirt.. Word.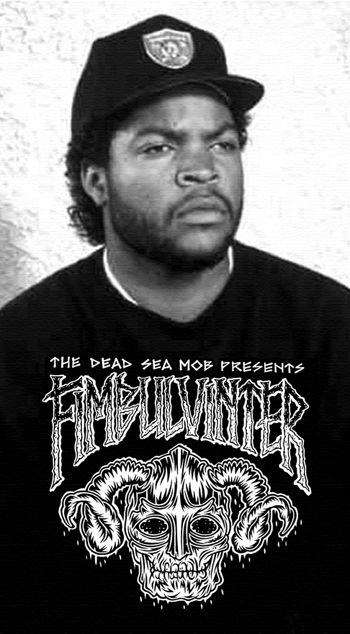 Show your love and confirm your inevitable attendance at the..
...