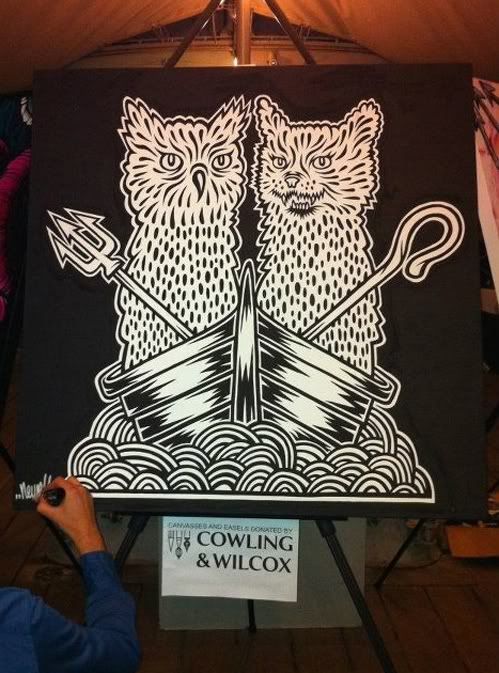 I was truly honoured to be involved in the recent Sea Shepherd fundraising event on board the HMS Belfast. Captain Paul Watson welcomed The Dead Sea Mob (and guest Mobsterist, Pete Fowler) onto the main deck where the five of us spent the evening producing some shipshape, Posca-painted canvasses, which will be auctioned off to help fund the continuing mission of Paul and his valiant crew.
I knocked up an Owl & Pussycat inspired piece featuring Sea Shepherd's trademark trident and crook. A friend sent me a link the other day to Stewart Lee's brilliant re-imagining of the Edward Lear poem, which you can check out HERE, if you like.
Make sure you pop over and have a look at The Dead Sea Mob's photos from the night, too. You can see the other pieces by Dan Mumford, Godmachine, Pete Fowler, and TwistedLoaf, all of whom completely pulled it out the bag and smashed it to smithereens for the worthy cause.
As well as meeting the legendary Cap'n Paul, we were introduced to Hawkwind and Adam Ant who played live onboard the ship, but the most humbling experience of the night was meeting the crew of 'The Steve Irwin' who showed us around their anti-whaling vessel. These volunteers are dedicated to sticking their oar in and putting a stop to the pillaging of our seas, and you've just got to take your hat off to them for their hard work.