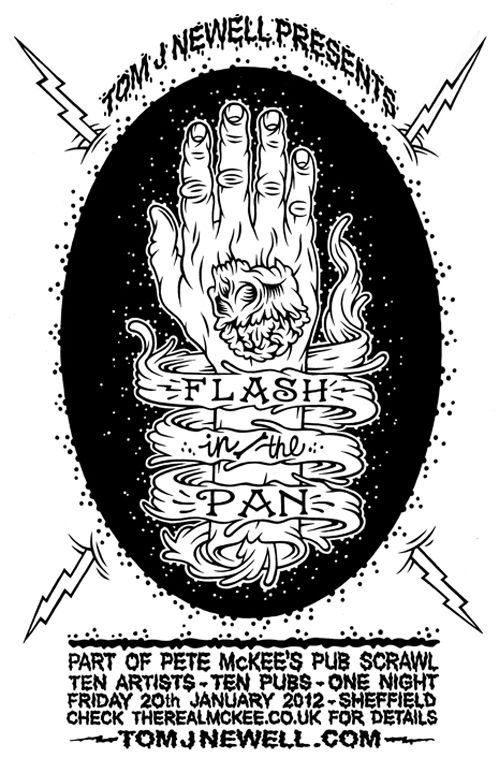 To kick off the new year I'll be taking part in Pete McKee's '
Pub Scrawl
' event in Sheffield. On Friday the 20th of January 2012, for one night only, ten different artists will take over one of ten city centre pubs each to create an arty-farty pub crawl across town.
Pete has curated the event, asking ten of his favourite, Sheffield-affiliated artists to use ten of his favourite Sheffield watering holes as blank canvasses.
The ten artists involved are: Warp Films, Nick Deakin, Lord Bunn, Ian Anderson (tDR), Geo, Sarah Abbott, Tado, Faunagraphic, Fine and Dandy, and Tom J Newell (..me).
The ten pubs hosting the artists' work are: The University Arms, The Harley, The Bath Hotel, The Bowery, The Washington, The Forum, The Frog & Parrot, The Great Gatsby, Bungalows & Bears, and Dada's.
To encourage people to get a good look around all of the venues, the event organizers are keeping the details of which artist has got which pub under wraps until the night itself.. I'm really chuffed with the pub I'm working with.. I'll be exhibiting some new, Tattoo Flash inspired work and I'm calling the show 'Flash in the Pan' to reference the temporary nature of the event.
As well as a series of new paintings and prints, I'll be releasing a new zine of Tattoo Flash, there'll be affordable artworks for sale (with proceeds going to the Sheffield Children's Hospital), live music, a
Syd & Mallory
's Pop-up-Shop with exclusive, hand-made Flash accessories, AND I'll be joined by my pal (and fellow Dead Sea Mobster),
Drew Millward
to produce a pair of collaborative, Posca-painted pictures live on the night.
'Flash in the Pan' is kindly supported by
Dirtyface
,
The Dead Sea Mob
, and
Uni-Posca
.. AND there'll be a special Thornbridge 'Scrawl' ale on tap in all the pubs involved. I'll be designing the pump sign for the limited edition tipple, exclusively for my venue.
...