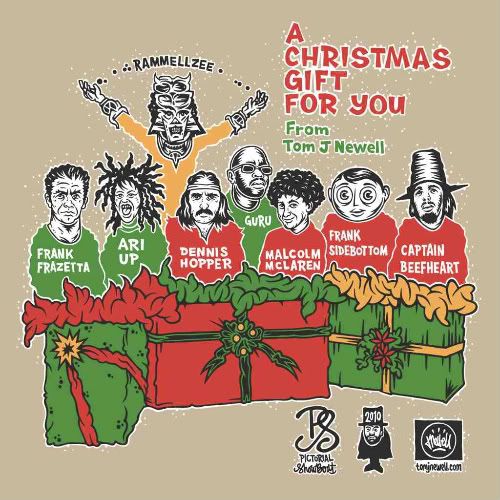 The ol' album cover homage can often be a fairly cheap shot at getting folks' attention, and no doubt this composition from Phil Spector's '
A Christmas Gift For You..
' LP (for which I couldn't find any artist credit for) has been done to death like a Festive Sgt. Peeper's, but hey... It's Christmas, a time to embrace a cliche or two, give friends n' family things that they might not want, and perhaps look back on the year that has passed and remember a few of the inspirational people who've passed away with it.
So, using that as a brief, I decided to knock up this illustration in remembrance of a group of people who I never met... Each of their deaths affected me though, because a lot of the stuff that these individuals did or made or said has inspired me along the way to do whatever it is that I've done and, like all of my influences, the stuff that I've done (and continue to do) wouldn't be exactly the way that it is without their influence.
I don't think there's anything particularly morbid about celebrating life through death. The Mexican Day of The Dead seems to get it right in that respect. I'd be stoked to think that some chuffer was yammin' down a sugar skull with my name on it after I'd kicked the bucket.
I'm also aware that there are a lot of 'un-famous' people who've lost their lives this year through no fault of their own, often in tragic or heroic circumstances, and that maybe a tribute to famous folk who 'sung a few songs' or 'made a few films' might seem a bit short-sighted, but I think it's just as easy to overlook the important contributions of people working in the creative industry, and a bit of shared public grief for a celebrity that many of us can relate to can often be a positive and inspiring force.
I was truly gutted when I heard about the passing of Don Van Vliet the other day. I sent a text to my Mum and Dad to see if they'd heard.. and they had. They were at home listening to his records. When I was a kid I saw something on TV about how everyone back int' day was into either The Beatles or The Stones. I asked my Dad which one of the groups he fell into and he said "Beefheart".
Anyway, after a bit of reshuffling, Don was sadly added to the picture that I'd started and I put together a playlist to go with the whole thing. I had most of the songs on record, but I don't have the means to digitally record the little 'disco mixes' I muck about with on my decks, so I ended up doing a bit of Christmas shopping on iTunes and threw together a bit of a mixtape type thing and burnt it to some CDs. I printed up the illustration as covers and I'll be giving out the little gifts over Christmas to who ever I bump into. I'm back up North for the Chrimbo season so, if I saw you out in Sheffield last night I probably already gave you one of 'em, and if you're about in Chesterfield on Christmas Eve and you're a good buddy of mine, you'll probably be getting one n' all.
There're 45 copies of the compilation and I've got about 20-summat left after a bit of pissed-up distribution. For everyone else here's the playlist that you can click on the songs to have a listen to (or the closest thing I could find) on YouTube. You can also click on the person's name to have a read-up on Wikipedia about them.
Merry Christmas!
1. (INTRO) 'EMBRYO' - BLACK SABBATH
(FOR FRANK FRAZETTA)
2. 'SPEND, SPEND, SPEND' - THE SLITS
(FOR ARI UP)
(FOR RAMMELLZEE)
4. 'IF YOU WANT TO BE A BIRD' - THE HOLY MODAL ROUNDERS
(FOR DENNIS HOPPER)
5. 'ABOVE THE CLOUDS' - GANGSTARR FEAT. INSPECTAH DECK
(FOR GURU)
6. 'YOU NEED HANDS' - MALCOLM MCLAREN
(FOR MALCOLM MCLAREN)
7. 'AULD LANG SYNE' - FRANK SIDEBOTTOM
(FOR FRANK SIDEBOTTOM)
8. 'I'M GLAD' - CAPTAIN BEEFHEART & HIS MAGIC BAND
(FOR CAPTAIN BEEFHEART)
..Happy New Year n' all that too and I'll see you in 2011.
x